It was nice to sleep last night! Usually I would jump down the bed in the middle of the night to sleep on the floor and then wake Mommy Nesh again to carry me up on the bed when it gets cold. Yeah! I will make sure SHE WAKES UP and CARRY ME UP on the bed whenever it gets cold on the floor. Mommy Nesh never fails to ignore my command in this situation!
But last night it was just SO RIGHT about the weather and the bed that I slept through the night! Mommy Nesh said I was snoring. Yeah right... as if me... Shih Tzu Queen of da House would snore! Sooooo unroyalty!
Nicholas was at home with me today! Don't know why he didn't go to work. But it was nice to have him around even if he's a total pig! Yeah! He sleeps like a pig!
Hey I'm different! I'm a dog! I have my rights to sleep as much as I can! Hehhee!
There were more cats today! This morning the neighbour's cat came into my garden along with her kittens! Grrrrr! How DARE she tresspass my garden! Ruff! Ruff!
"No! Cannot disturb them!"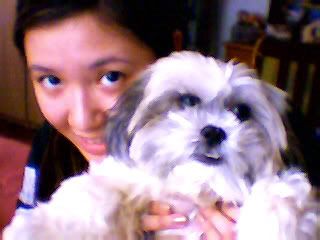 Hmph! That was what Mommy Nesh said. Bully! Don't even let me chase the cat! Ooooh it was just so tempting to run out and chase them around and see them all freaked out by my royalty presence! Hahaha! If Mommy Nesh not around I would chase them all around the garden!
Anyway take a look at my picture. That is Mommy Nesh hugging me! Aren't I a cutieeee???