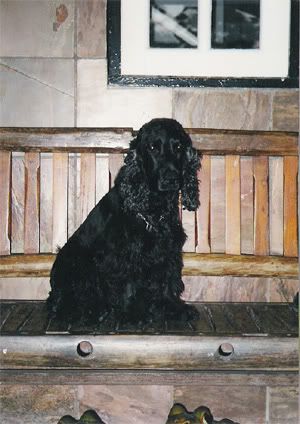 I miss my hubby. I love him very muchies! We had cute and adorable puppies before and things were so happy back then! Any other dogs come near me, I will bite them off!!
Only my Wizard, Cocker Spaniel King of da House, can be with me forever and ever!
We used to be inseparable back then. Spend so much time together from day to night and night to day running in the garden.
But one day, on 6th October 2005, which is my husband's birthday, Wizard left ... never came back. It was a stormy night and everything happened so sudden. Now he's gone forever...
I miss my deary Wizard. Ever since he left me, I became so lonely. I am a widow now. But happiness can also be found from Mommy Nesh and my human family. They keep me strong.
Still, no other dogs can replace my hubby tubbly wubbie. There are times I miss you so much I wish you were here.
Hubby, wait for me in Doggy Dog Heaven ya? Time will come when I will fly up there through the cotton clouds and find you waiting for me.
Love you!
Ruff ruff!